Black History Month
Black History Month UK is a celebration of black history that takes place 1-31 October every year. This year (2020), the 33rd UK Black History Month will be celebrated. The first was in 1987.
In school each class will be joining in with Black History Month in different ways. Some of which they will share at home through projects and homework you will see in your Google classrooms.
At Saint Joseph's Infant and Junior Schools the culture and history of many world heritages and religions are incorporated throughout the year in all of our subjects.
It can be seen in the texts we use in literacy, the scientists we learn about in science, the historical figures, heroes and world leaders we learn about in history and geography as well as current figures in our society.
During art and design and design technology we learn about different world artists, techniques from art around the world as well as traditional artist styles from other countries.
It is important to learn and understand the religions of others, especially all those in our community and we reference important celebration days throughout the year as well as learn about the history and meaning behind these days.
As part of our British Values learning, PHSE and Caritas we also learn about tolerance for all, freedom and caring for all our neighbours as Jesus taught us. Incorporated throughout our RE we teach tolerance and understanding. The program teaches about two world religions Judaism and Hinduism in depth and touches upon other world religions throughout the year.
We believe in the importance of respect, love and freedom for all of our neighbours:
"The development of peoples depends on a recognition that the human race is a single family working together…" (Pope John Paul II).
Please see below for events in Brent and London this Black History Month
Learning Through The Arts: Black History Month Half Term Family Workshops
Learning Through The Arts will host a series of Black History Month family craft-themed sessions at the SEIDS Hub, Wembley, from Monday 26 - Friday 30 October.
There will be of plenty of activities to keep the children learning and creating! Sessions will take place at 11am and 1pm and include painting, collage, storytelling and model making inspired by African culture and the works of Yinka Shonibare and Turner Prize winner Lubaina Himid.
Workshops are free of charge for Brent families, with the option for children to gain an Arts Award.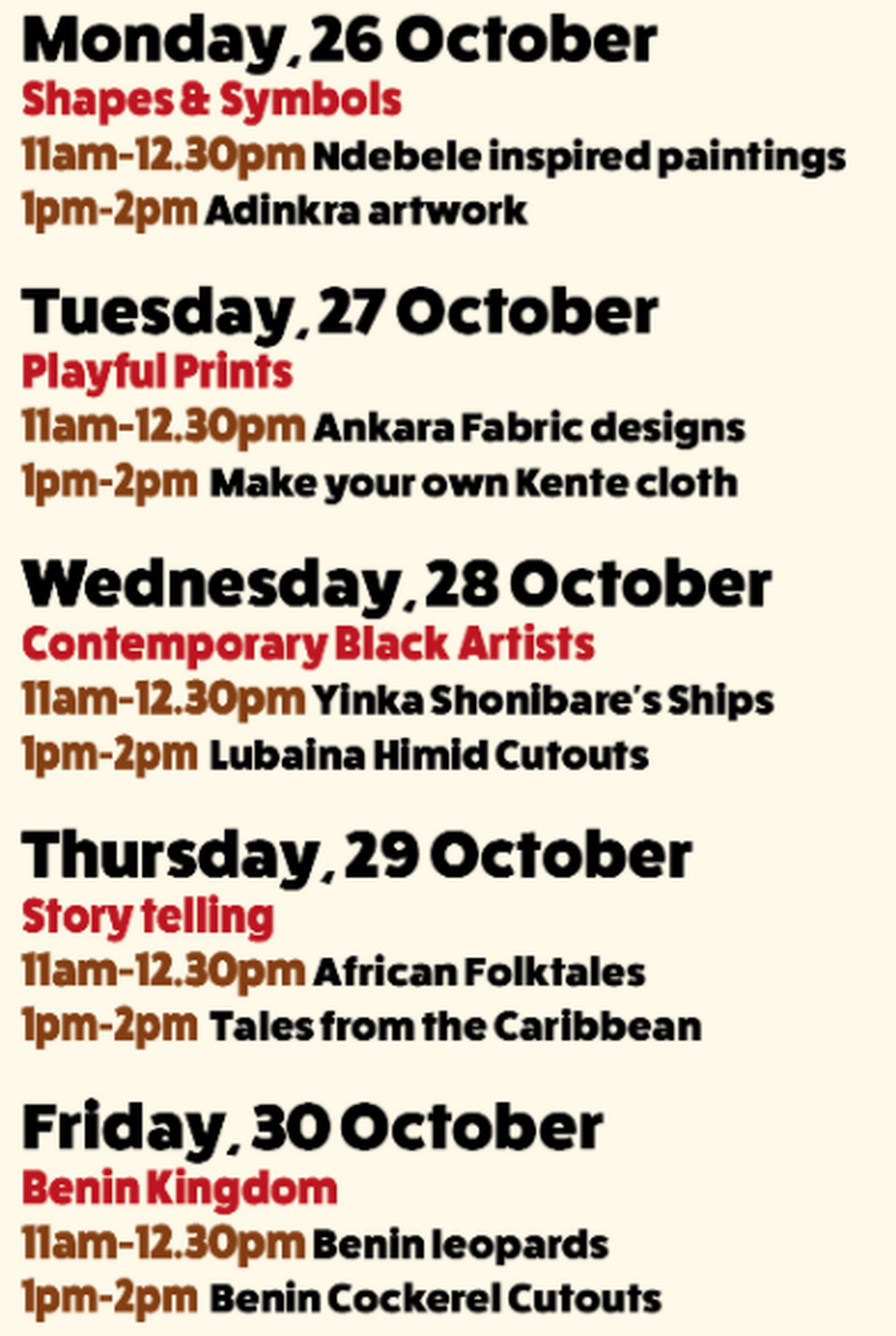 To book:
Email brent.start@brent.gov.uk
or text the workshop name and "online" to
07717 806216.
Both events are suitable for families with children 5+.
Celebrating Black Brilliance In Brent
This Black History Month Brent Museum and Archives are celebrating Black lives and Black brilliance in Brent.
(see above also)
to learn some more about our heroes, including footballer Cyrille Regis, pictured here in 1980 in the yellow and green of West Bromwich Albion.
Windrush Stories
Windrush Stories Exhibition (Wycombe Museum)
Date/Time:
1st October 2020 - 31st October 2020
11:30 am - 4:00 pm
Location:
Wycombe Museum
Priory Avenue , High Wycombe, HP13 6PX, Bucks
To mark Black History Month, Learning Through the Arts are celebrating the story of the Windrush migrants through a month long exhibition at Wycombe Museum.
This exhibition commemorates the first mass migration from the Caribbean to Britain in 1948 and illustrates the invaluable contributions The Windrush migrants and subsequent generations have made to Britain over the decades.
Visitors are able to view the exhibition on Thursday, Friday and Sunday between 11.30 and 16.00 during opening hours.